THE SYNESTHESIA CONNECTION
---
SYNESTHESIA – A Dual Sensory Experience
An impingement on one of the senses causes a simultaneous response from another sense, as a visual response from a sound. The experience is beyond the control of a true synesthete.
'THE VIBRAPHONE, THE MUSICAL INSTRUMENT, MAKES A ROUND SHAPE. EACH NOTE IS LIKE A LITTLE GOLD BALL FALLING. THAT'S WHAT THE SOUND IS, IT COULDN'T BE ANYTHING ELSE."
QUOTING A SYNESTHETE FROM DR. RICHARD CYTOWIC'S BOOK, "THE MAN WHO TASTED SHAPES"
PUBLISHED 1993
---
A PAINTING FROM PHILLIP SCHREIBMAN'S BOOK "THE COLOR OF MUSIC"
PUBLISHED 1992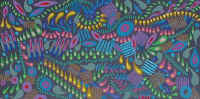 "THINGS" FOR VIBRAPHONE AND GUITAR BY COMPOSER KARL BERGER
THE GENERAL SHAPE OF A VIBRAPHONE SOUND IS ROUND WITH VARIATIONS OF SIZE AND SHAPE. VIBRAPHONE TONES WILL RANGE FROM MELLOW [GOLD] TO BRIGHT [SILVER] AND ALL COLORS, DEPENDING ON THE MUSIC AND THE MUSICIAN.

SCHREIBMAN HAS BEEN PAINTING MUSIC SINCE 1955. HE IS NOT A SYNESTHETE.
---